User
20190913
Monday 13th May 2019
How can I set the snap-grid? Help docs say: "... Snapping can be activated on an individual basis via the main menu and a tool bar. By default, after starting LayoutEditor, only Snap to Grid is activated. Snapping is not active in non-modifying modes like Zoom Mode. " but I cannot find any snap setting in the menu or toolbars.
Jürgen
LayoutEditorFull
Monday 13th May 2019
The gird setting are located left next to the select status in the lower bar of the LayoutEditor. All its setting can be adjusted via the right click menu. With a right click into a free area of the upper toolbar you can also add the grid setting to the upper toolbar.
Jürgen
LayoutEditorFull
Monday 13th May 2019
---
Attachments:
(only for registered users)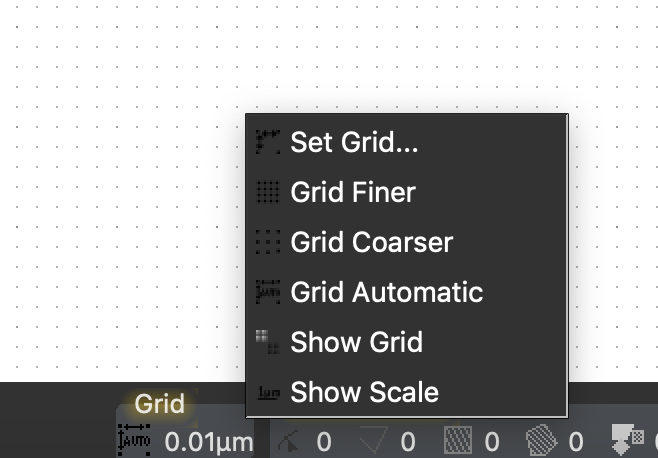 ing-1.png
![ing-1.png](/api/img.php?thread=20190513-f1c7&file=ing-1.png)
Jim
LayoutEditorFull
Monday 13th May 2019
---
Attachments:
(only for registered users)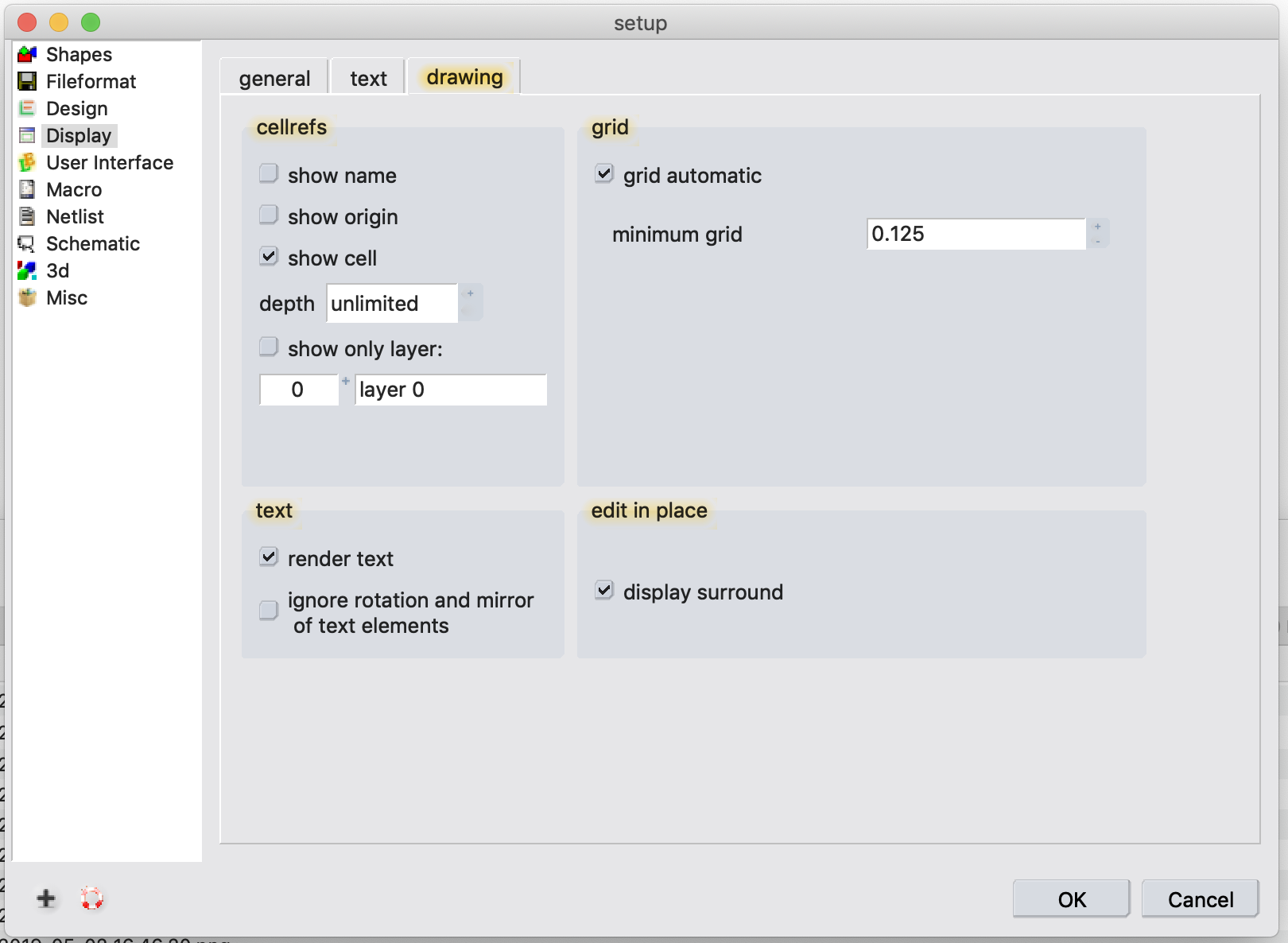 Screenshot 2019-05-13 16.07.28.png
In SETUP / Preferences you can also set a "Minimum Grid". This can be useful if you know you will be using a mask writer with a fixed grid. In this example, the grid is still Automatic but has a minimum grid of 125nm.
User
20190913
Monday 20th May 2019
Is there a snap-direction feature? That is, for move / copy / stretch / path etc., can you constrain the movement to be orthogonal, diagonal, rather than anyAngle? Very handy for keeping things that are lined up, lined up (difficult to do across long distances with anyAngle only, which is the default). I can't find anything about this in the Help. There is a similar constraint in the Setup>Shapes but it only appears to affect the shape creation, not Move / Copy direction etc. I cannot find a numeric entry window that would allow me to (say) force an ortho movement by entering (say) 100,0 for the movement. Maybe this could be done by the command line if I knew the syntax and this was a capability. But I can find only one reference to "command line" in the Help, which says that "stuff" is possible but not -how- : https://layouteditor.org/layout/basics/layer-and-shapes : "The shortcuts of the layer can be set via Layer Properties, Layer Manager or the command line." If drawing commands can be executed from the command line window, where can I find descriptions of syntax and how the mouse-click selection relates to command entry (before? after? special stuff like shift-click select to keep a persistent selection?) ? I think the command line deserves some more documentation, beyond that it can do stuff (with no explanation, how).