User
20190913
Friday 3rd May 2019
It appears that texts in schematics and symbols are not individually size editable. There is a font chooser in Settings that appears to be global. It is often convenient that labels which aren't interesting (like all the 3rd resistor and 4th transistor pins that just call out the same substrate connection) be made very small and their named-net wire stubs very short, for readability. Can texts be scaled in any way? For example in Silvaco Gateway every text can be individually sized without even having to property-edit it; up arrow, down arrow. Maybe this functionality could be put into the "Move Label" function?
Jürgen
LayoutEditorFull
Saturday 4th May 2019
Informative text can be scales in the edit mode with a right click. The size setting of functional text (pin labels, device parameter) are global. If you don't need a label here you can remove it from the symbol/device setup.
User
20190913
Wednesday 8th May 2019
Is there a global setting for text size and if so, how can I (1) see the present font size and (2) set it smaller?
User
20190913
Wednesday 8th May 2019
---
Attachments:
(only for registered users)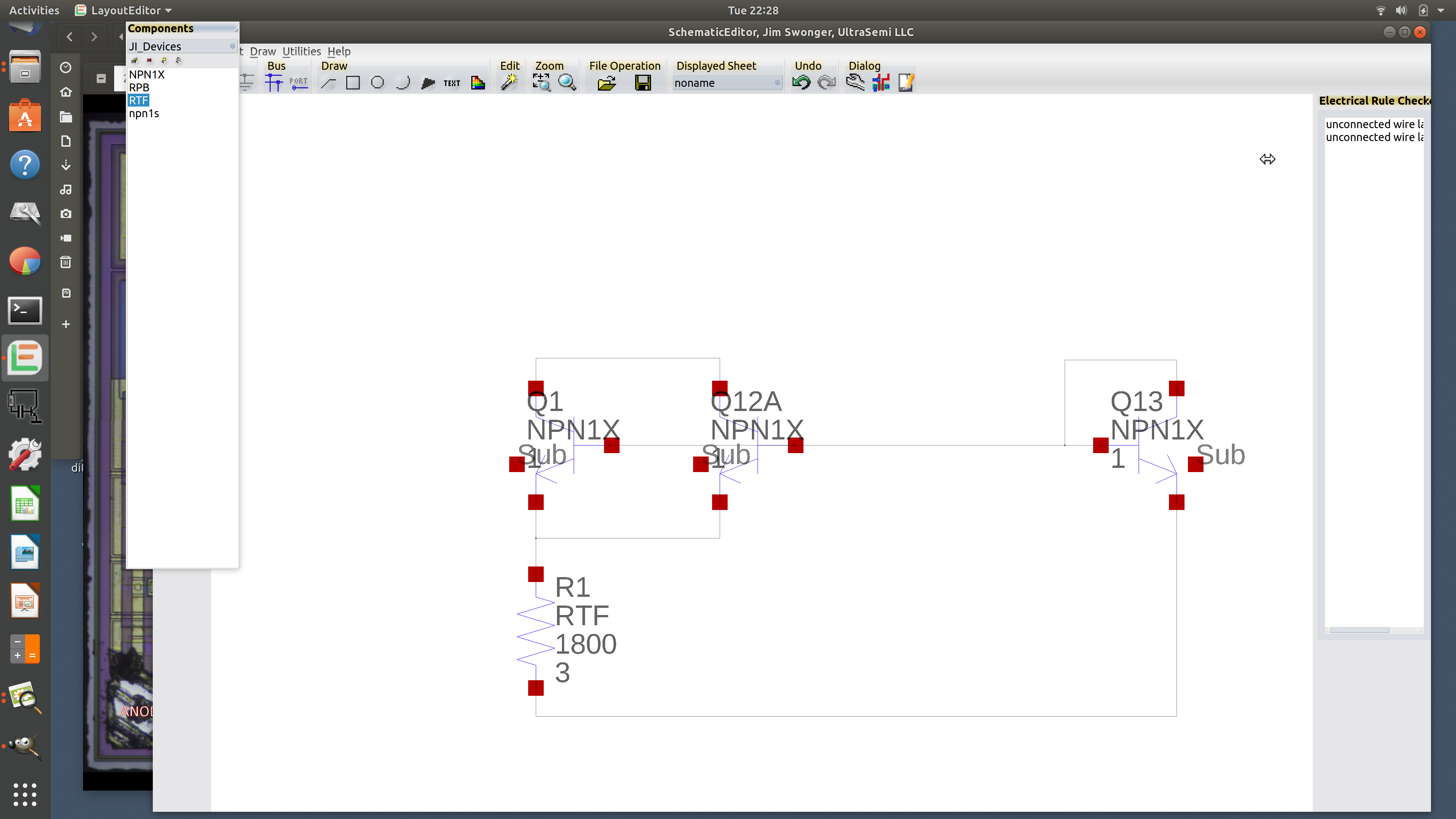 Cant_Stretch_ERC_Window.png
I'll add to this some other questions / observations: 1) On a 4K display, cursor is almost illegibly small. Wires are likewise almost too fine to see. How can I increase displayed line widths beyond single pixel and make cursor more easily found? Cursor looks like 1 pixel linewidth and very few pixel (like 2) segment length. Is pixel form editable, if so, how? 2) ERC results window is not stretchable to the point that full text (not even two words) is displayed. Docked or undocked, the same. Screen shot shows what I see, trying to stretch the window to where you see the cursor but it won't widen. 2a) ERC shows 2 (of the 3) "Sub" net labels not connected. Cannot see any indicator for which error, when clicked, pertains to what schematic feature. This may also relate to small displayed size, I can't tell. 3) You can see how the device property text is over-large relative to device body size (copied from analoglib). It would be much prettier / more legible if it could be set lower.
Jürgen
LayoutEditorFull
Wednesday 8th May 2019
Thanks for the feedback. 4k displays and retina displays are handled in a different way on any supported system. Many operation system option are available. A setup resulting in a optimal display on any system with any display option is hard to archive. We are working on this task.
User
20190913
Monday 24th June 2019
---
Attachments:
(only for registered users)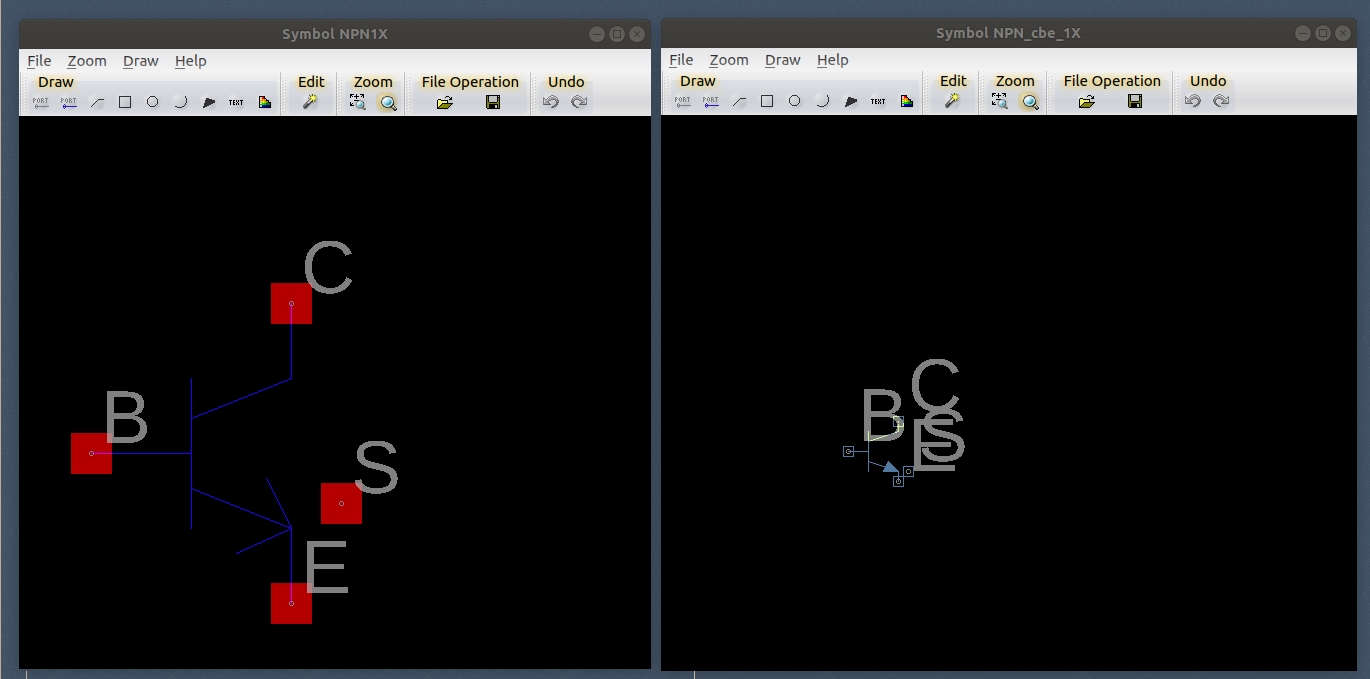 Schematic_ZoomIn_Limited2.png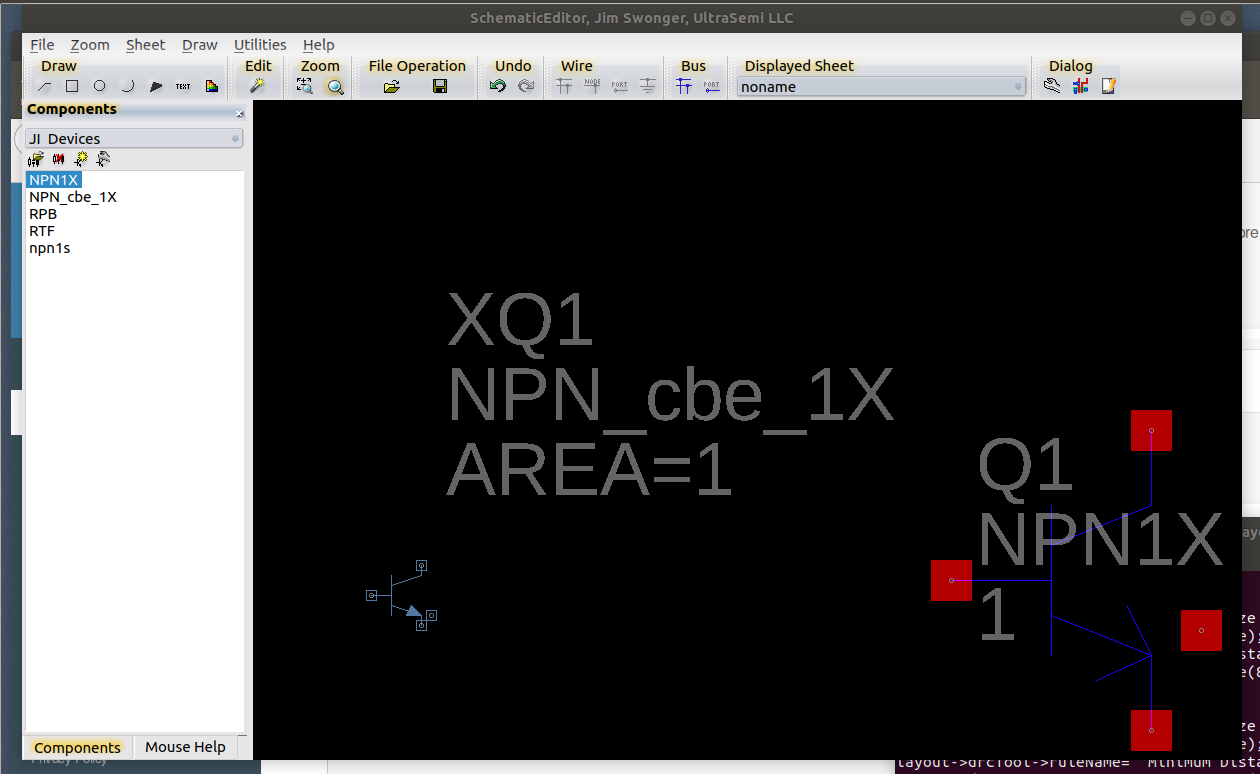 Schematic_ZoomIn_Limited3.png
In trying to make the Schematics tool more usable, I've tried making the symbols much smaller so they "live" closer to the minimal snap-grid. This makes things easier in terms of making symbols line up, and pin target points easier to hit clean. Problems are two. One, the limited zoom-in scale (see pic) remains as a problem, can't get close to the individual pins. Two, the pin texts are strangely large and can't be modified in any way I can find. They display crazy large relative to how small (yet legible) the symbol drawing elements can be made. I find that placed text (separate from ports) can be downsized some, but only as far as "8" (from 12). I'd like to request that this go as far as "1" (even if I might not go that far in the end).